It was a close call, but I boarded that big jet plane yesterday and flew to Stavanger, Norway. It was, to say the least, a very long, very trying week. I was sick - sick enough, with a white blood cell count low enough, that we were not sure if it would be safe for me to travel. I contracted a virus, which made me feverish, weak, lethargic, and made my skin hyper-sensitive. Eventually, after three blood tests in one week, we saw on Saturday that my white cell count was coming back up into a normal range and the docs cleared me to fly. To go with my being sick and simultaneously preparing for a trip I was not sure I could make, Lil'E caught the same virus. Except her symptoms were very different - high fever, excess energy
(to enable bouncing off walls while cooped up at home), and these strange blotches on here face. She called it "stickeritis".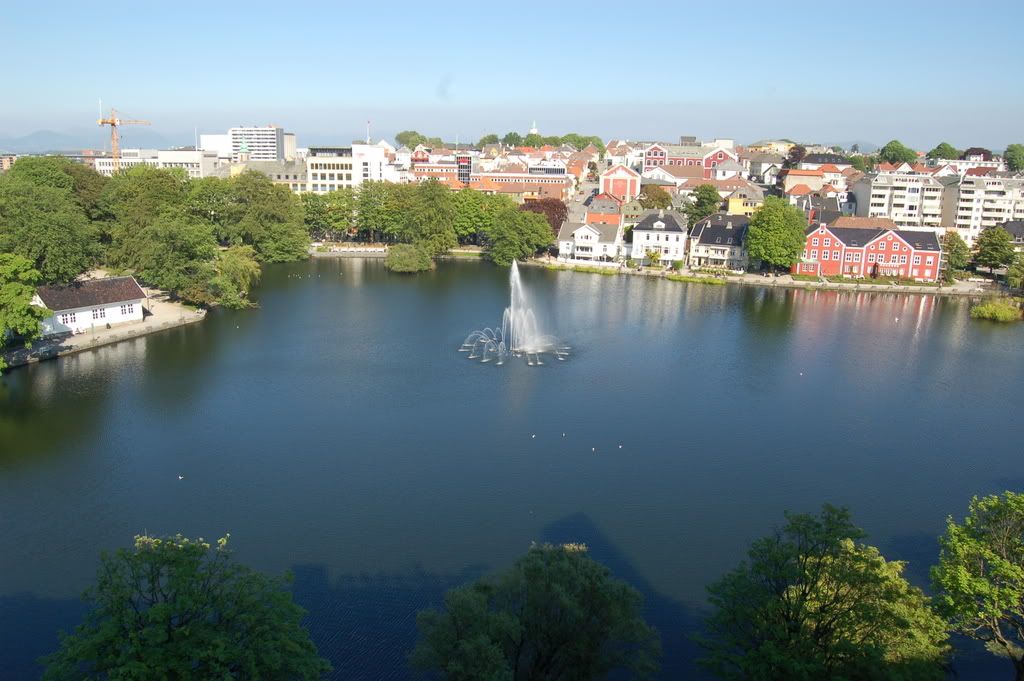 So, good day from Norway! (God dag fra Norge!). This picture is from my hotel window, looking over a park in the center of Stavanger (at 5 pm). It's a much better view that my last hotel's view, and the shower does not leak into the bathroom floor. However, I still am sleeping on a glorified couch. I should have some free time tomorrow, while I get adjusted to local time and before the conference starts, to do some walking around and see some sights.

As for the flight over, I watched the movie Shooter with Mark Wahlberg. Don't you make the same mistake. I had little to choose from, and I don't know how many times I smacked my head in disbelief that they just did that cliché so seriously. Here is my favorite quote, in reference to Wahlberg's character declaring why he was going to kill a lot of people:
You don't understand how serious this is. They killed my dog.
Tags:
Stavanger
,
Norway
,
Flying
,
Illness
,
Bad Movies
,
Shooter
,
Mark Wahlberg