Yesterday was the big day. Lil'E's 4th birthday party. So, I got to spend the day with half-pints and a band composed of an animatronic mouse, bird, dog, pizza chef, and purple thing. Yes, that's right folks - it was a date with Chuck E. Cheese!

It started with a house full of family and a couple of boxes of doughnuts and kolaches. From there, the sugar high led us to a party with 17 kiddos and a man/mouse who simultaneously inspires awe, excitement, and utter terror in the hearts of pre-schoolers everywhere. The in-house celebrity is pictured on the right, in full animatronic action.



As every super-star has his or her entourage, so does this man/mouse. They may be a little more "farm-fresh" than other back-up bands, but they sure play some mighty fine music. Here is Munch's Make-Believe Band!

But what of the birthday girl? She had no fear of this behemoth of a rodent. No, she cozied right up to him. When the time came, she danced like a banshee as the celebrated mouse himself sang her his rocked up rendition of "Happy Birthday". Following this, cake was consumed in large quantities. Tokens were dispersed as the children scattered to the four corners of "Las Vegas for Kids" and rudimentary forms of gambling resulted in exchanging the tokens for "tickets". These tickets (which have no monetary value) can then be exchanged for beads and trinkets that are worth less than the average American makes in three minutes of a work day. Through this exchange, a nebulous feeling of satisfaction and joy are achieved in the child - until you tell them it is time to leave, when meltdowns replace the former joy.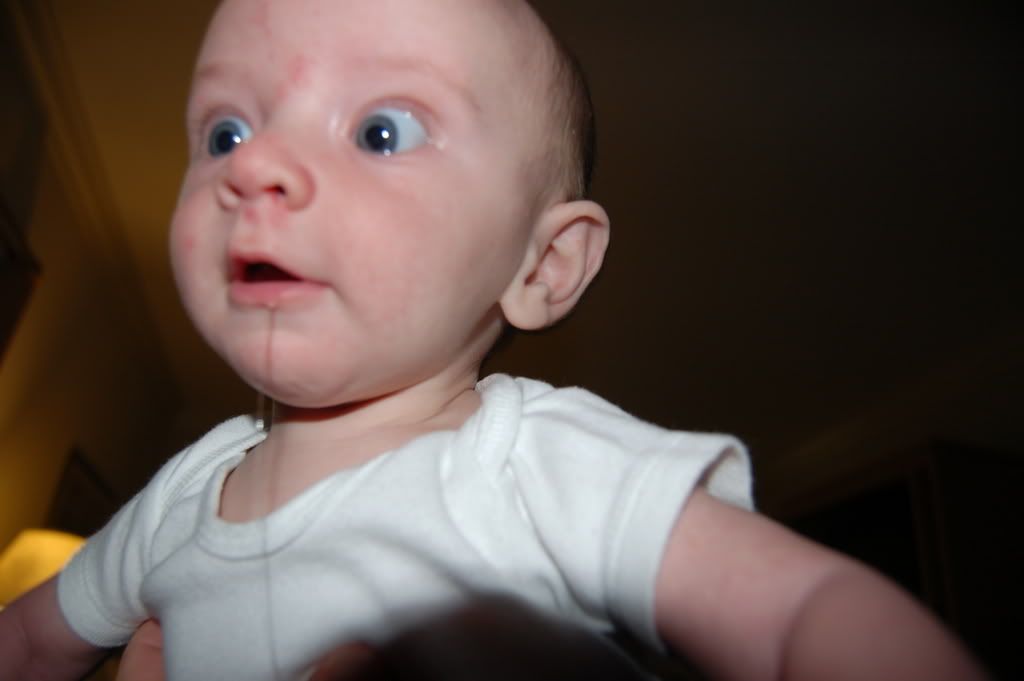 And then there was Lil'er E. I think this picture pretty well sums up his feelings on the day.

After the party, it was time to transport the booty home. This was, of course, accomplished by transferring the items from Kid Vegas to the car, and then the car to the house, in the midst of a downpour of biblical proportions. If something stayed dry, I did not see it. Then, to finish it all off, we left town. We are basking in the sun on the beaches of Galveston this weekend, with my whole family along. Currently, Lil'E is at Schlitterbahn with cousin, aunt, and uncle, Lil'er E is asleep, Mrs. E is taking a shower, and I am relishing a few fleeting minutes of sanity. Ah, well, that too shall pass as we trek to the four corners of the island in search of the next entertainment fix.

Ta ta for now! Have a great holiday weekend!

*My apologies to Robert Burns for this adulteration of a perfectly good line from one of his great poems. But, seeing as he has been dead for so long, I don't think he'll try to sue me.

Tags: Chuck E. Cheese, Birthday, Animatronic, Sarcasm, Kid Vegas, Party, Galveston, Beach, Schlitterbahn, Family, Robert Burns