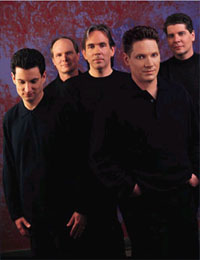 True to my word, I continue Music Week here at Euphrony Rambles. Today, I focus on one of my all-time favorite groups, GLAD. They've been around since the late 70's and are perhaps best know for their tight vocal arrangements and jazz leanings. Listening to their lyrics, which often are simply scripture put to music, frequently encourages me and reminds me of things I too easily forget.

As I said, they're vocal arrangements are amazing. They began, early in their career, to include one a cappella song on each album. They were popular enough that they released a whole album of vocal music, The A Cappella Project. This lead to an alternating of "vocal" and "band" albums - a pattern they follow to this day. Other special projects include The Symphony Project, recorded with the London Symphony Orchestra, and A Cappella Gershwin. Their a cappella arrangements of some ancient hymns ("And Can It Be" and "Be Thou My Vision") are the standards by which I compare any version of these songs.

Here are a couple or their classic songs:

"Be Ye Glad" - Their signature song; just five guys around a piano. The video may be lacking, but the music is beautiful. To this day, this song remains one of my absolute favorites.
"Variations on a Hymn"
- Often just called that hymn thing, this is their shtick giving a history of how contemporary Christian music got started. They trace back to Martin Luther and Charles Wesley, and how they would set lyrics to bar songs and use them in worship. They take the same lyrics and then translate them to how they may have been written in the 1940's (jazzy big band), in Appalachia (bluegrass), on a 1960's beach (surfer), and today. It's a longer song (about 10 minutes) but is pretty cool. There is a
YouTube video of "Variations on a Hymn"
, but I could never get it to load. Here is a link to the
full audio
of the song.
Are you familiar with Glad's music? What do you think of the songs? They're not on many radio station playlists these days, but they are in constant rotation on my iPod. If this is an introduction for you, I hope you find their work enjoyable!
Tags:
GLAD
,
A Cappella
,
CCM
,
Jazz
,
Pop