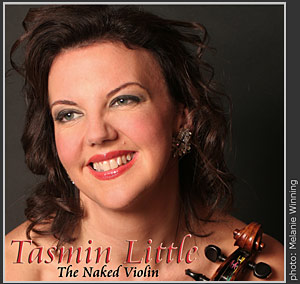 The sounds of classical music do not fill the ears of people like they once did. There's no doubting that the choices in music today have made the older compositions seem like something from a past era, out of place today. Not everyone likes this trend.

Tasmin Little is a concerto violinist who wants people to remember, enjoy, and appreciate the works of masters. She has recorded and is offering free for download solo violin pieces from J.S. Bach (Partita No.3 in E major for Solo violin), Paul Patterson (Luslawice Variations op.50 for violin), and Eugène Ysaÿe (Sonata No.3 in D minor "Ballade"). The album is entitled, appropriately, The Naked Violin, for its presentation of the violin stripped of all accompaniments. Along with the music, which can be downloaded as M4P, 320 Kbps MP3, or 192 Kbps MP3, she also offers downloadable cover art and audio and pdf files of her introducing the pieces. There's even some questions and answers that teachers could use in a class.

She give a three part challenge with this free download.
Listen to her spoken introduction and download her CD.
Take some time to listen and get to know these pieces. Then write to her and tell her what you like (or don't like) about each piece.
Go to a concert, buy a CD or write and tell her what barriers still remain to prevent you from wanting to do either!
Go check out the music.
It offers some great pieces, played by an accomplished artist, using two violins (a 1757 Guadagnini violin and, on loan from the Royal Academy of Music, the 'Regent' Stradivarius constructed in 1708 - both works of art in and of themselves).
Tags:
Free Music
,
Violin
,
Bach
,
Paul Patterson
,
Eugène Ysaÿe
,
Download
,
Solo
,
Tasmin Little